GENERAL ELECTRIC ADDS FORMER SBPLI FIRST STUDENT EMILY STERN TO EXPANDING ROSTER OF TECHNOLOGY PROS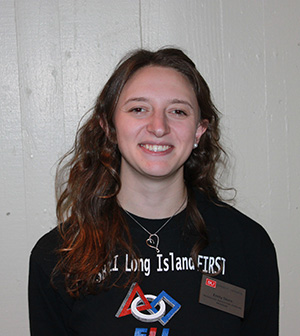 School-Business Partnerships of Long Island, Inc. (SBPLI) FIRST (For the Inspiration and Recognition of Science and Technology) alumna Emily Stern has secured a position with General Electric (GE). Ms. Stern credits her time with FIRST to her spot in the G.E. Aviation Edison Leadership rotational program.
Ms. Stern, now a senior mechanical engineering student at Boston University, began her engineering career early. At age five, she was introduced to the FIRST Robotics Competition (FRC) via her older brother, Andrew Stern, who was already in the program. While Mr. Stern showed off his 150-pound, five-foot-wingspan robot at a demonstration, the gears in Ms. Stern's head started whirring: How does it move? Can I build my own?
By age 12, Stern was using words like inertia, momentum and gear-ratio when discussing physics with peers and family. She found she was more than eager to join an FRC team to compete with her own inventions. Throughout her years in FIRST, Ms. Stern was elected President, Lead Mechanical Engineer and Head of Outreach for her team. She laid out a "big sister" curriculum to encourage older and younger students to work together to learn fundamental engineering skills. Ms. Stern attributes FIRST to more than just intellect, saying the program "has taught me to give and receive criticism effectively and in a respectful manner." This outlook echoes FIRST's important pillars of gracious professionalism, interpersonal skills and time management.
At Boston University, Ms. Stern has presented about FIRST to technical executives at Boston Scientific about bringing the culture of FIRST into the workplace and taken on a mentorship for FIRST team 246 "Overclocked" at the university. Ms. Stern credits her ambition and success to skills "I gained during my 16 years with FIRST. I never truly realized how much I was learning. I was honestly just having fun. And that's the best part about FIRST."
The School-Business Partnership of Long Island (SBPLI) offers a program in which students ages 9-14 conduct independent research and give presentations on real-world challenges and how to solve them, and participate in a robotics competition. The FIRST (For the Inspiration and Recognition of Science and Technology) LEGO League is an international program for children which combines a hands-on, interactive robotics program with a sports-like atmosphere and is co-sponsored by LEGO.
SBPLI also offers the Jr. FIRST LEGO League for children ages 6-9 years old. For more information about FIRST Lego League International or the Jr. FIRST LEGO League, please visit www.firstlegoleague.org.