SBPLI Alumnus Justin Greene Honored as One of Long Island's "30 Under 30"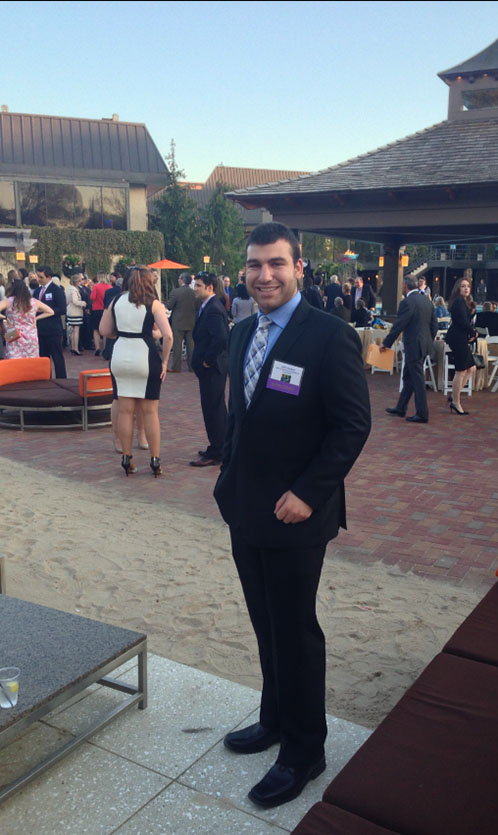 School-Business Partnerships of Long Island, Inc. (SBPLI) alumnus and former Student Ambassador Justin Greene was recently recognized as one of Long Island's "30 Under 30" by The Huntington Chamber of Commerce. A previous member of SBPLI's Half Hollow Hills FIRST® (For Inspiration and Recognition of Science and Technology) Robotics Team 3624, the Thundercolts, Mr. Greene is entering his sophomore year at Ohio State University's Fisher Business School. Recalling his time with SBPLI, he was inspired to increase the robotics initiatives at his college and the neighboring school districts.
Nominated for the award by an SBPLI judge from the FIRST competition, Mr. Greene, who is 19, was the youngest winner in 2015 and the second-youngest person to ever receive this honor. He received the award as a result of his dedication to SBPLI, FIRST, his current and former communities and the Half Hollow Hills School District, including his current role as a counselor at Park Shore Country Day Camp, which raises funds for SBPLI.
While on the Thundercolts, Mr. Greene attended the FIRST World Championship as part of a Rookie All-Star FIRST Robotics Competition (FRC) team, and organized sponsor relationships for Park Shore Country Day Camp and School, among others. He furthered his leadership skills as a student ambassador in the Development Council of SBPLI, where he helped raise funds, design and run expansion campaigns across Long Island. Mr. Greene was also asked to speak to 1,000 attendees at SBPLI's FIRST Long Island Regionals last year, at which he was honored as a FIRST Dean's List finalist. He then continued on to the FIRST National Competition.
Mr. Greene credits the skills and honors he acquired participating in SBPLI's FIRST Robotics competitions for giving him the ambition and successful enterprising necessary to promote the program at the collegiate level. In his freshman year, Mr. Greene became a member of the Ohio State University FIRST Robotics Mentor Team, a role in which mentors FIRST team members in high schools throughout Ohio. He also began lobbying for the creation of a student organization on the Ohio State campus that would represent the university's competitive team, much like the Central Ohio Robotics Initiative (CORI) does for regional FIRST competitions statewide. Toward the end of the school year, Mr. Greene led an expansion project that introduced Pennsylvania State University students to FIRST in an effort to initiate a Big Ten collegiate conference division for the organization.
"FIRST Robotics is unique because, while it is a competition for robot building, it also teaches life lessons and provides the platform for young and motivated students to collaborate, bond and gain perspective in the industry," says Mr. Greene. "SBPLI especially provided me with the encouragement I needed to socialize and network with my peers. My participation and passion in FIRST has shown me just how fortunate I have been to be involved and how essential it is for me to remain so as an alumnus. I believe that every SBPLI student stands to gain technical and business skills through the organization, so I will do everything possible to continue to spread the program to colleges nationwide."
Mr. Greene returns this fall to Ohio State University, where he plans to join the ice hockey and flag football teams, in addition to rushing the fraternity Zeta Beta Tau (ZBT). He will also continue to promote his FIRST initiatives to universities and grade schools throughout the states of Ohio and Pennsylvania.