Northrop Grumman's Dan Friedel Presented at the 2016 FIRST Robotics Competition

Game of Drones in Bethpage?
AC4ISR Aids 'Robo Warriors' in FIRST Robotics Quest
April 22, 2016
By Janis Lamar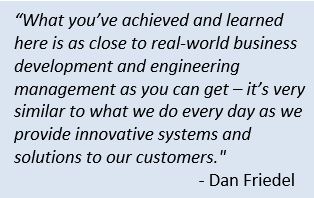 The assembled 'robo-warriors' had spent the day tackling moats and drawbridges, catapulting boulders and storming castle walls. Battles now concluded, some 2,000 high school students representing 51 teams – at times friends and foes – their families and faculty gathered at Hofstra University in Hempstead, New York, to learn the results of the first day of qualification matches.
The event, held April 1, which has been called the "Super Bowl of Smarts," had the aura of a major sporting event.
Northrop Grumman's Dan Friedel, director of the company's Force Protection business in Bethpage, commended the students for their achievements as he took center stage on the 'battlespace' at the 17th annual Long Island Regional FIRST Robotics Competition. This year's theme was FIRST Stronghold, a medieval-style game requiring three teams to work as an alliance during each round of competition.
"FIRST Robotics truly combines the excitement of sport with the rigor of science, technology and engineering. Much like medieval knights jousting – history's first extreme sport, by the way – you've applied practical knowledge, hands-on skill and preparation to provide a fun, entertaining day for those of us watching from the stands."
Looking beyond the "great fun science and engineering can be," Dan reminded the high schoolers the disciplines are also critically important. "The world needs solutions, problem solvers and doers, and you can make a real, meaningful difference."
Northrop Grumman is a long-time supporter of the FIRST (For Inspiration and Recognition of Science and Technology) Robotics Competition, part of the company's commitment to STEM (Science, Technology, Engineering and Math). The Long Island regional event is presented by the School-Business Partnership of Long Island, Inc., which has a goal of helping the business community develop its future workforce.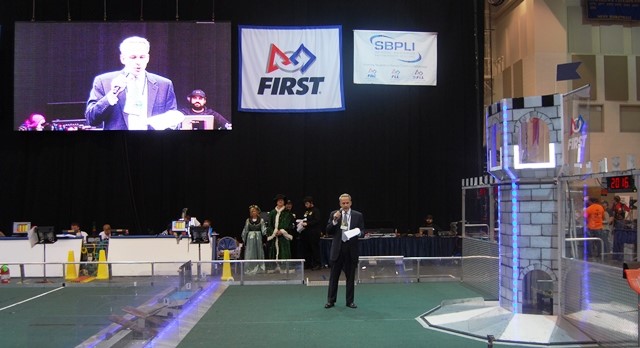 On the medieval-themed playing field with some 2,000 FIRST fans filling the stands, Dan Friedel, director of Northrop Grumman's Force Protection business, congratulated, challenged and inspired the student roboticists battling for the crown at the 17th annual Long Island Regional FIRST Robotics Competition.
Over the course of the competition, students hone their engineering and math but also enhance their problem-solving, collaboration, time-management and leadership skills.
"What you've achieved and learned here is as close to real-world business development and engineering management as you can get – it's very similar to what we do every day at Northrop Grumman as we provide innovative systems and solutions to our customers," Dan said. He encouraged them to visit the Northrop Grumman display and learn how the company employs the same technology elements they'd used creating robots to help ensure a strong national defense.
Matt Cholerton, a quality engineer with the Force Protection business, knows the connection well. Matt first became active in FIRST Robotics as a Long Island high school student in 1999; during the past decade, he has mentored the Central Islip High School CI-Borgs team and the J-Birds from Hicksville High School.
Like many student roboticists, Matt was inspired by the challenge of designing and building a high-performing 'bot from a "small box of parts and a big book of rules" in six weeks then testing and tweaking it during competition. After earning a degree in mechanical engineering from Worcester Polytechnic Institute, he volunteered his time supporting the program. Matt served as a scorekeeper for the Long Island regional competition, one of 120 events this year worldwide involving more than 3,100 student teams.
Project manager Joan Falcone, a FIRST Robotics judge the past five years, is equally inspired by the "passion, creativity, ingenuity and gracious professionalism these awesome students demonstrate as they work together to come up with a solution to a novel robotics challenge."
'Judge Joan' applies her expertise in program management and computer science – she not only earned a bachelor's degree in computer science at St. John's University in Queens but also was a professor there and at Long Island University – as she reviews engineering designs and plans, observes matches to see the robots in action and interviews student team members. Judges review the collective feedback and deliberate as a group to select the top-performing team and determine which teams merit recognition as an overall role model – the prestigious 'Chairman's Award' – and for honors including creativity, engineering, inspiration and innovation.
With no deliberation necessary, Joan, Matt and Dan agree FIRST Robotics is a "winner" -- an exceptional program for inspiring, motivating and educating the next generation of technology leaders and innovators.
As the Long Island teams waited to learn who would be competing at the global championships April 27-30 in St. Louis, Missouri, Dan encouraged them to continue to work hard, meet challenges, solve problems and innovate. "Have high expectations and big goals. Always give your best shot," he urged. "America – and the world – needs you."